How to reach Ravello…
From the North
Coming from North (A1 Sun Highway) you want to take the A30 Highway exit Pagani/Nocera. Afterwards you want to follow the directions to Costiera Amalfitana/Ravello reaching the Valico di Chiunzi up to Ravello.
From Salerno
Take the state street 163 as far as Minori. Follow the main coast street up to Castiglione, then turn right following the uphill way to Ravello for 5 Km.
How to reach "I Limoni" B&B…
From the main Ravello street take "Via Della Repubblica" the downhill way to the Auditorium/S.Cosma direction. Keep going down to the street until a small parking slot near a white house. Leave the car along the road and call us, you will se our sign at the beginning of ste stair. Take "Via Gradoni", which is a characteristic rural stair downward with 200 steps. From this point the access will be possible only by walking. Then, you will find another sign outside the main gate of our B&B at n. 14 on the rightside of the stair.
Detailed Map
---
Suggested itineraries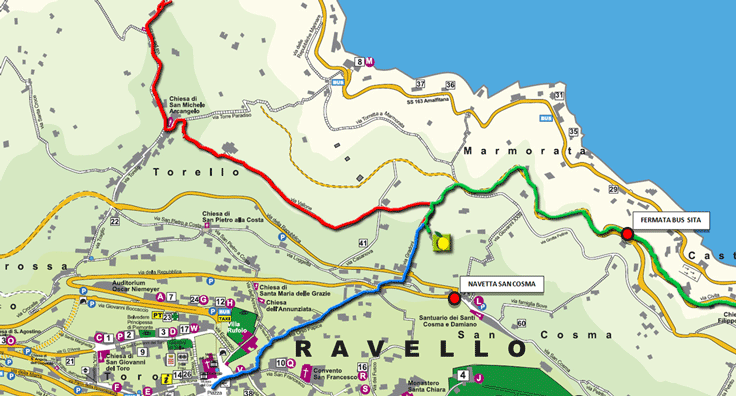 From the B & B it is possible to walk some interesting itineraries on foot, to be able to immerse yourself completely in the spectacular landscape of the Amalfi Coast.
RED: from the B&B to Minori (about 25 minutes walking)
GREEN: from the B&B to Amalfi (about 30 minutes walking)
BLUE: from the B&B to Ravello centre (about 15 minute walking)